LORD Heavy-Duty Plateform Mount Series | Square
Compression Load Range: 120 - 500 lbs. (534 - 2,225 N)
Heavy Duty Plate Form mounts provide effective vibration isolation and excellent protection against shock where greater load carrying capacity is required than can be provided with Standard Plateform Mounts. They are widely used to solve energy control problems for medium and heavy equipment.
Load ratings of 120 to 500 pounds per mount are available. The 283 series of Heavy Duty Plate Form Mounts will provide effective isolation for frequencies above 9 Hz.
Typical Applications
Engine - generator sets
Manufacturing machinery
Plant equipment
Engines
Gear Motors
Blowers
The square plate or holder styles offer adaptability for most installation needs: The unitized, bonded construction offers compactness, space efficiency and predictable characteristics. Specially compounded elastomer for the flexing element and high-strength bonding provide maximum service life.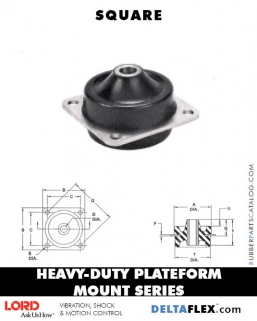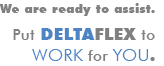 Notes
Snubbing washers are recommended for use with Heavy Duty Plate Form Mounts. They form an interlocking system of metal parts, providing a positive safety which limit and cushion excessive movement from overload and shock.