LORD RUBBER BUSHING TYPE DRIVELINE COUPLING
Horsepower Rated: 10 hp to 600 hp at 2000 rpm
"Accommodate misalignment, cushion high torsional shock, and does not generate or transmit noise..."
LORD Dynaflex® Bushing-Type Couplings accommodate misalignment, cushion torsional shock, and do not generate or transmit noise. Since relative motion is taken in the elastomer rather than sliding metal surfaces, no lubricant is involved or ever required. Dirt and grit cannot effect the coupling bushings. The elastomer has been compounded to provide long service life.
Specification, selection and dimension information provided in the catalog facilitate design of the coupling assembly. The bushings are standard parts, and the flanges can be supplied by the end user or by LORD as a special design.
Typical Applications
Driveline installations where multi-directional misalignment must be accommodated and torque loads are medium to high.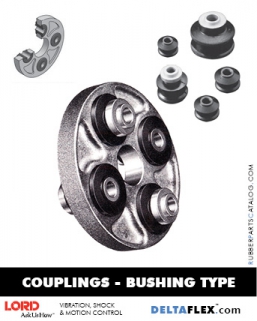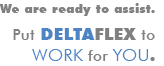 Bushing Coupling Selection Guide
Compression bushing-type couplings are assembled by pressing the elastomeric bushings into sockets of coupling flange. Once assembled, the coupling can be used in two ways:
When high torque and small space are the controlling factors, the parallel arrangement is recommended. When misalignment is the controlling factor, the bushings should be applied in series arrangement.
Parallel Arrangement
The driving shaft can be connected to all of the bushings, and the driven shaft connected to the coupling flange. This arrangement loads all bushings in parallel and produces maximum torque capacity and a less resilient coupling.
Table 1 provides selection criteria for parallel arrangement,

Series Arrangement
This arrangement requires an even number of bushings per flange. Mating flanges of the driving and driven shafts are attached to alternate bushings. This arrangement transmits the torque through the bushings in an N x N series arrangement, thereby making the torque capacity one-half of the parallel arrangement. The coupling is also more flexible.
Table 2 provides data for the series arrangement.

Notes
Bushing selection is dependent upon torque requirements, angular, parallel and axial misalignments, as well as bolt circle diameter, number of bushings and bushing size.
The torque values shown on the charts are nominal. The bushings are capable of withstanding higher torques due to the shock loads or other short durations.