LORD MACHINERY MOUNTS
Compression Load Range: 50 - 7,500 lbs (223 - 33,375 N)
"Greater machine accuracy, longer service life, smoother operation and reduced maintenance..."
LORD Machinery Mounts are designed to support heavy equipment and isolate intermittent or continuous vibration. The result is greater machine accuracy, longer service life, smoother operation and reduced maintenance. These mounts are available in four types to suit different needs.
Features & Benefits
Compression Load Range: 50 - 7,500 lbs
High-efficiency, multi-directional isolation of low frequency vibration
Extremely rugged and require no maintenance
Easy to install
Long service life
LORD Machinery Mounts are specifically engineered to isolate vertical shocks and reduce transmission of structural noise through floors.
LORD Machinery Mount Family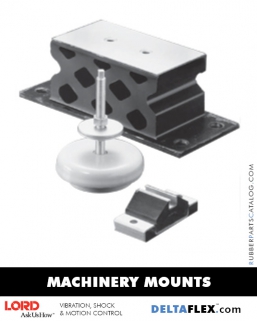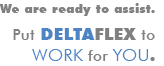 LORD Industrial Shock Mounts efficiently control shock and structural noise transmission from heavy industrial machinery. Adjacent controls, sensitive instruments and precision machines are protected from impact disturbances which could hamper their performance. Worker comfort is increased, and building structures need less maintenance.
LORD Lattice Mounts are recommended for applications where disturbing frequencies are as low as 6 Hz. Their lattice design provides a soft vertical spring rate combined with lateral stability. Typical applications include shaker screens, sifters, rubber mills, air compressors and large engines/generators.
LORD Chan-L™ Mounts are recommended for machines where vertical disturbing frequencies are 600 cpm or higher. Their elastomer-supported channel design features a soft vertical spring rate. The design incorporates built-in protection against metal-to-metal bottoming. Typical applications include separating and grading screens and shakeouts.
If your application involves intermittent or continuous vibration frequencies above 600 cycles per minute, use LORD Chan-L Mounts. If frequencies below 600 cycles per minute are involved, use LORD Lattice Mounts.