LORD Center-Bonded Rubber Bushing W/Out Outer Member

Part # J-5971
LORD Center-Bonded Rubber Bushing W/Out Outer Member are used in applications where the absorption shock, attenuation of noise, reduction of wear and elimination of lubrication is required.
Additional Images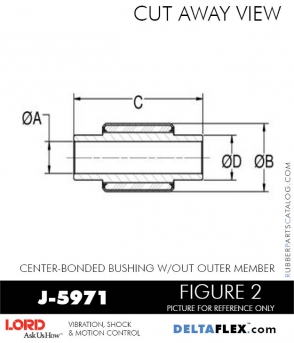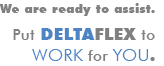 Max Radial Static Load Rating
3,200 lbs. /

14,234 N

Radial Spring Rate (K rad)
102,000 lbs./in. /

17,860 N/mm

Torsional
260 lbs.-in./deg /

18.4 N-mm/deg

Part No.
J-5971 | J5971
Manufacturer
LORD Corporation
Part Category

Vibration Control

Part Section
Bushings
Part Type
Center-Bonded Bushing W/Out Outer Member
Part Status

Call +1 800 657-0747 or use the
webform to the right on this page

Part Alternative

Call +1 800 657-0747 or use the
webform to the right on this page

Catalog Page No.

| | | |
| --- | --- | --- |
| Catalog | Section | Page No. |
| Rubber Parts Catalog | Bushings | Page 5 |
| LORD PC7000 | Bushings | Page -- |
| LORD PC-2201m | Bushings | Page 72 |
Dimensions
Technical Drawing

Dimension
Measurement
Note
A
1.503 in. /

38.2 mm

B
3.93 in. /

99.8 mm

C
2.50 in. /

63.5 mm

D
3.00 in. /

76.2 mm

Socket Diameter
3.70 In /

93.98 mm

1
Socket Length
2.25 In /

57.15 mm

NOTES: Red figures are metric reference.

1 - Tolerance is ± 0.015" (± 0.381 mm) for joints without outer member.

***Notes only apply if called out in table***
Bushing Selection
Determine the amount of static loading at the installation point.
Determine the conditions under which the joint will operate.
The following should be used as a guide to part selection for Type "A" and Type "B" service.
TYPE A: Extreme conditions (reversing dynamic load or distortion at high frequency – over 600 cpm), use 1/3 the Radial Static Load Rating.
TYPE B: Average conditions (constant radial load, intermittent shock), use the Radial Static Load Rating.
Installation
For installation instructions, refer to Bushings, Installation Guide section. Heavy wall tubing is recommended for proper operation.
Custom Designs
Customized designs and special elastomer compounds for specific problems are available. These may result in spring rates and dimensions other than shown.
A part's listing on this website does not guarantee its availability.
Custom Parts
Our custom molding department can make a part just for your application.
Engineering
Would you like some assistance in selecting the right mount for your application? Our engineering department can help. Please call or use the webform below. We will be glad to assist.
Not what you are looking for?
Our knowledgeable staff can assist you with whatever you need. From Special Packaging, Overnight shipments to applications engineering. DeltaFlex is ready to help find a solution.
Engineering Assistance
"Frequently vibration isolation problems require a system engineering analysis..." - Put us to work for you.
DeltaFlex has the computer capability, as well as specialized programs, for analyzing engine/transmission combinations. The output from these analyses is a mounting proposal which optimizes performance over the complete range of operating speeds. This service is available to you upon request. If you require this type of engineering assistance please call 800.657.0747 we will be glad to assist you.

What is the impact of Vibration Control?
The biggest impact that vibration isolation can have, is with the end users of our customers products, more importantly their perception of the quality of those products.
Values states herein represent typical values as not all test are run on each lot produced. For formalized product specifications or specific product end uses, contact Customer Service 262.632.2345.
A part's listing on this website does not guarantee its availability.